In today's world, we are surrounded by rapidly evolving technology which has made screen time an essential part of our life. While it has its downside, this can be manifested in many positive ways, especially when it comes to assisting autistic children with varying needs.
Some of the best apps that can help equip your child with some necessary skills are listed below:
ABC Kids – Tracing and Phonics
Pokémon Smile
Aquapark.io
GoTalk NOW LITE
Starfall
GoNoodle
Reading Eggs
Speech Blubs
Proloquo2Go
iCreate… Social Skills Stories
First Then Visual Schedule HD
Bitsboard Flashcards PRO
ABC Kids – Tracing and Phonics
This BCBA-approved app is a great way to help children to learn the alphabets via an interactive display, offering a range of colorful and fun phonetic tracing games, puzzles and more. This app incorporates animated characters to motivate the user to engage more effectively with the app, trace alphabets and follow directions to enhance their educational experience. Rewards on correct answers, fun stickers and colorful graphics combined make this one of the best apps for toddlers, preschoolers, and kindergarteners. Why parents would love such an app even more is because its free of cost and free of advertisements!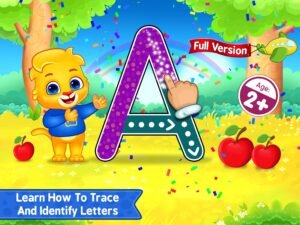 Pokémon Smile
Pokémon smile is a fun app that encourages your child to brush their teeth regular, helping them form their habit of maintain their health and taking care of their teeth from an early age. Apart from the visually appealing Pokémons included in the app, it allows you to set reminders about brushing your teeth, grants rewards for the effort and even provides useful advice regarding toothbrushing!
Aquapark.io
This fun game helps children to work on their motor skills as the user attempts to slide down a huge water slide to be the first to make it across the finish line. The stunning visuals and easy controls make this a user- friendly app for everyone to enjoy. Although it is free, the app runs advertisements, which is why adult supervision is highly recommended.
GoTalk NOW LITE
GoTalk NOW LITE is a fully functional augmentative communication app for those who have difficulty speaking. This free app has all all the essentials of an effective AAC app, like adjustable page layouts, customizable navigation, recorded and text-to-speech capabilities, and an included symbol set. You can even create a communication book with unique settings and up to 5 pages in length and envision the impact of blending video, music, and jump to actions among your pages.
Starfall
Starfall is a useful app that teaches your child to read and for others to improve their reading skills. The app places emphasis on phonemic awareness, systematic sequential phonics, and common sight words with the help of audiovisuals to provide the reader an immersive experience. The app has now expanded to include language arts, mathematics for preschool up until third grade and is a great tool build your child's reading confidence, especially for those with special education needs and learning difficulties.
GoNoodle
GoNoodle is a wellbeing app for children that focuses on improving physical and mental health, helping kids to discover themselves and bring out the best in them. The app uses videos as their primary communication tool, making the users experience as real as possible and helping them to learn directly, with step-by-step instructions. The best thing about this app is that it covers a wide range of topics like travel and adventure, food and cooking, mindfulness and mental health, music, and dance and finally outdoors and the environment.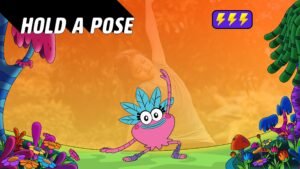 Reading Eggs
ABC Reading Eggs' education apps for kids are designed by experienced teachers to promote real learning on the go. Their colourful and interactive learning apps teach phonics, spelling, vocabulary, maths, sight words and more – and they're so much fun! The best feature, however, is that this app caters to all year groups, all the way from 2 years to those above 10years of age.
Speech Blubs
Speech Blubs is a learning app designed to improve communication in children with special needs, especially those with ASD, Down Syndrome, and articulation issues. Its primary target is speech therapy, where child experts teach first sounds, words, and sentences so your child speaks with ease.
Proloquo2Go
This Augmentative and Alternative Communication symbol- based app helps users learn how to express themselves. Proloquo2Go puts the user's development first, with innovative features based on clinical knowledge and user research. It's also one of the few AAC apps designed to support all users, from beginner to advanced. Completely customizable and designed for a range of fine-motor and visual skills, the app's versatility makes it useful for non-verbal people with autism, Down syndrome, cerebral palsy, and a range of other diagnoses or speech impediments like apraxia and dysarthria.
iCreate… Social Skills Stories
i Create… Social Skills Stories is an application with the ability to totally customize sequential steps of a storyline for individuals that need help building their social skills. The app is designed to make unlimited personalized social skill story books by importing personal photos, adding titles, text, and audio to unlimited pages in the story. All the books can be re-arranged in an order specific to daily routines. In addition, all the pages in the books can be re-arranged or hidden in the setting section to allow for changes to each of the story lines. The multi-user feature allows for custom social skill stories to be made for different individuals within the same application.
First Then Visual Schedule HD
This app helps you create audio-visual representations of daily routines, activities, sequences, all of which can be accessed from anywhere, on any device, at any time! It allows the user to create visuals for daily tasks, for example "shower, then get dressed" and so on. Steps that are completed can be ticked off from the list. This app aims to help users with developmental disabilities, like autism to be able to follow their routines, with lesser monitoring and help lower their anxiety when it comes to tasks at hand.
Bitsboard Flashcards PRO
This exciting app is designed for users of all ages, children, adults, even the elderly. It provides a range of information displayed in fun ways to make learning more interesting! Users can play dozens of mini games, instantly access thousands of carefully curated lessons by fellow teachers, parents, and students from all over the world, create their own boards, add multiple users, and tweak the settings of every game to their liking. Being a global learning platform, it even allows users to share their custom lessons with one click with anyone via the Bitsboard catalogue.
Whilst parents might be hesitant to hand their children a screen at a young age, these apps are surely all the reason why you should do it if you feel the need and how it can benefit your child.
For more information, follow us on Instagram or visit our website!